Can we all take a second to obsess over this whole handkerchief style movement going around? There are so many styles to wear a handkerchief now that this cute little accessory deserves its very own "how to use" post. So, let's start simple before getting acquainted with new trends.
9 Different ways ladies can use their handkerchief
Here are some of the best ladies hanky styles that make you look more attractive and gorgeous.
As scarf around the neck
As a headband
As a mask by covering mouth and nose
As wristband
Tie Around Knees
As a blindfold
As a pocket square in your coat
Tie your hair
Tie around your bag
1. As scarf around the neck
Who doesn't absolutely adore this cool and casual replacement for your necklace? It is one of the more stylized take-ups on the use of a basic handkerchief. To achieve this look, fold your hanky in half at the points, to form a perfect triangle. After that, fold the long end of the fabric down towards the point. Wrap the folded handkerchief around your neck, then wrap it around again lightly. Double knot it at both ends but make sure to tie it lightly as it is a very sensitive area. Also, wear the knot a little slightly off to either side to make it look and feel chic.
2. As a headband
The handkerchief is a handy accessory that can be worn in multiple ways. Now to wear it as a headband it will be better to fix your hair first as adjusting them afterward can initially ruin your style. Firstly, lay your handkerchief on a solid surface and fold it over and over until it becomes one long strip. After that, position the folded handkerchief near or on your hairline, depending on whether you want to show any hair in the front or not. Hold one end of each side and pull it down under your hair and tie it together at the base of the neck. To keep the headband in place, pin it down with some bobby pins. Although avoid putting them anywhere near the top of the head, where it may look embarrassingly obvious.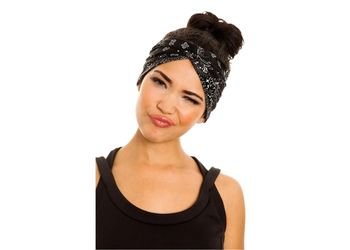 3. As a mask to cover the mouth and nose
Most handkerchief styles are pretty basic that do not require additional accessories to be held in one place, which makes it a simple go-to option if you want your spice up your outfit. For a strong edgy look, lay the handkerchief out on a flat surface so it looks like the shape of the diamond. Then you can begin by folding the hanky in half like a triangle. Wrap that triangle around your neck in a way that the two ends get together in the back. Tie them in a knot and pull up the handkerchief to perch it at the middle of the nose and cover the bottom half of the face.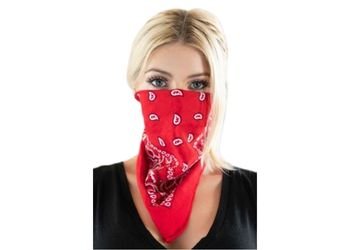 4. As wristband
Handkerchief bracelets are great fashion accessories for girls as they are easy to make and don't cost much. Lay the handkerchief on a uniform surface and straighten out the edges outward until it is a large square. Take the bottom corner and bring it to meet the top corner to form a nice triangle shape. Once folded, take a couple of inches from the top corner and fold it over the rest. Continue to fold over the width until you get to the folded part of the triangle. Then place the handkerchief on your wrist and secure it with a knot but make sure it isn't too tight. You can also fold both the ends beneath the knot if you don't prefer them hanging down.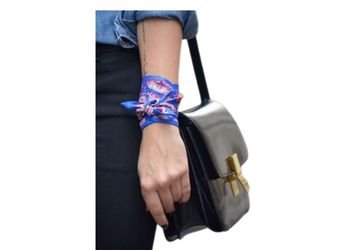 5. Tie Around knee
Wearing a handkerchief around your knee gives you an exciting rock and roll vibe. It doesn't matter whether it is around your bare leg or over a pair of pants or shorts. It would be better to begin by folding the handkerchief to form a 3-inch band as you would do for a classic headband or bracelet. After that, fasten the band across your knee and knot both ends firmly. You can either keep the ends of the knot out at the front or leave it swinging around the back while tucking them in the end.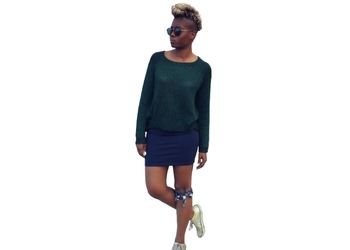 6. As a pocket square in your coat
The main purpose of the pocket square is to elegantly complement your look and make it more stylish. Fortunately, you can make a pocket square with your handkerchief. To make it properly, firstly, place it in a form of diamond shape on any flat surface. Then bring the bottom point of the handkerchief to the topmost point. Now fold the left corner in about two-thirds of the way over to the right and in the same way, fold the right corner in about two-thirds of the way over to the left. And finally, tuck it right into your pocket and adjust a little as needed so that one point is in the center of your pocket.
7. To tie your hair
Half top knots are one of the favorite hairdos if you like the messy cute boho look. All you have to do is simply use your fingers rather than a comb to gently gather your hair from the top and both side of your head. Hold them with one hand as you would do with a half ponytail. Then use your other hand to pass the elastic band over that section of hair. After clipping or tieing your hair in a half-up style, wrap a handkerchief around that section covering over the elastic band. It forms a major fashion statement, with minimal effort.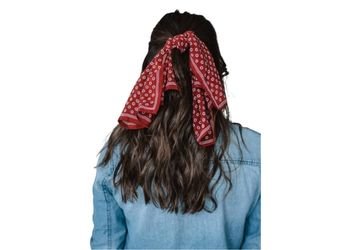 8. Tie around your bag
A classy handkerchief can add just the right amount of cool to any look you are planning to go for this season. One of the more modern and convenient is putting it on your handbag. The easiest way is to fold your handkerchief into a triangle and roll it into a straight line. Then simply tie a loose knot and let the hems hang freely. This style is best suited for your elegant and well-structured ladies handbag but you have to make sure that the bow looks more casual and effortless, and less perfect as you don't want to look like someone who is trying too hard.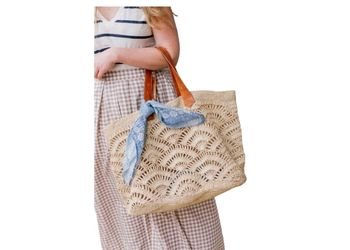 9. As a blindfold
Blindfolds are used for many things including team-building exercises, sleeping, and various party games. To make matters simple, the blindfold can be easily made out of your handkerchief. Just lay out the material on a table or the floor and make a square with it. Then fold the handkerchief over so the corner of one side reaches the other one on the opposite side making a triangle shape. Fold the corner of the tip of the triangle two or three times, so that it will look somewhat like a long and narrow rectangle. Now just pick it up by its both ends, wrap it around the head over the eyes, and tie it firmly in the back with a double knot.
So these are the few different handkerchief styles that you should try. If you're wearing a simple outfit and want to add a little extra touch, now you know how to take a little help from your branded handkerchief. It's a versatile accessory that can be used with different hair lengths and outfits. Honestly, it's that easy!