A lady's handkerchief presents her true personality and nature then no matter what others think. Nowadays, hankies are utilized for many things from dabbing away tears, cleaning hands, and fixing runny makeup. This small bit of cloth comes in very handy to mop up most of life's spills. They take up pretty limited space and are super easy to clean. To enhance your knowledge more about handkerchief brands for ladies you should continue to read a bit more and discover different brands with their unique characteristics.
Top 10 Best handkerchief brands for ladies in India
Usually, this modern generation does not like to carry items like handkerchiefs as they like to keep things simple. But it is necessary to carry the hygiene essentials items to protect oneself from dangerous germs. Also, a girl must have a clean piece of the handkerchief as it comes in handy when tissues aren't available. Now to fulfill your needs you can find premium quality handkerchiefs made from soft materials and are skin-friendly in India.
Here are some of the best ladies hanky suggestions to make this task easier for you.
Rumaal
Hex-a-fun
Suta
Rosewood
S4S
Myyra
Caruso Italy
Aenon Fashion
Tex Homz
Williwr
1. Rumaal
Color has a power that directly influences your soul! A Rumaal hanky is so much more than just a piece of fabric, it's a feeling. These sustainably printed handkerchiefs not only brighten up your day but have become an essential part of it. Made with premium quality, these hankies are 100% Cotton material which leaves a soft touch to the skin after usage. The color of the handkerchief also remains solid no matter how much you wash it. You can easily iron them in a medium setting to get a coarse and crisp edgy every time before you use it.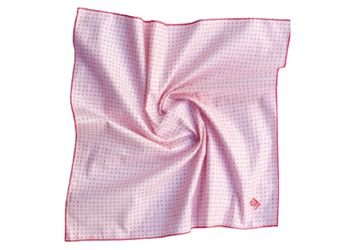 2. Hex-a-fun:
Are you ready to unhide your fun side? Hex-a-fun is one of the leading brands which manufacture quirkiest playful print handkerchiefs fused with lovely lighthearted colors for day-to-day use. The fabric quality of these hankies is top-notch made from 100% organic cotton. They are very soft and skin-friendly. With their moisture-absorbent feature, their lightweight makes them easy to carry. You can also wash them in the machine with the rest of your clothes. These soft cotton flannels measure approximately 28cm x 28cm and, can work as a great gift but most ladies like to keep them for themselves.
3. Suta:
Suta is one of the most respectful boutique brand which adds elegance, grace, and boldness to its products with a blend of tradition. The handkerchiefs are lightweight without being excessively thin. These are made from mulbery cotton, which makes them super soft and extra durable. Most of the handkerchiefs require washing the first time to soften up, but these beautiful pieces of fabric are soft straight out of the box! Moreover, they can be easily hand washed separately in cold water with a little salt and mild detergent but it is strongly recommended that you shouldn't soak it in water for more than 5 minutes. After they are dried, you can iron them at medium temperature.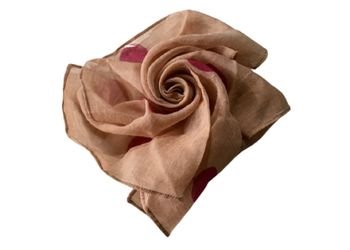 4. Rosewood:
Well known for its premium quality fabric, Rosewood Cotton Handkerchiefs are highly substantial, soft, and very durable. After working closely with the manufacturers they put forward a wide variety of unique choices which are available at budget-friendly prices. Their products are also considered classy gifts for birthdays, weddings, and other family events. By purchasing from this brand you will surely have a cotton handkerchief that can be cleaned on a normal cycle and then be dried in your dryer. These elegantly designed handkerchiefs also help you to save trees every time you sneeze.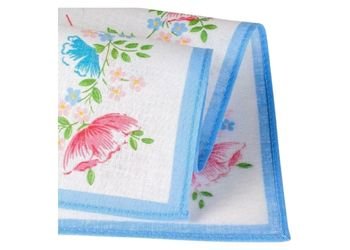 5. S4S:
To be honest, can you ever go wrong with floral prints? Florals have become the face of vintage style over the years. The S4S cotton handkerchiefs are extremely soft and stylish which provides the ladies the look of sophistication they want to hold. This floral collection of hankies is made up of 100% quality cotton fabric which makes them substantial and adequate for daily use. The hankies are also infused with a unique technology of micro absorbent which works impressively in case of an accidental spill. S4S handkerchiefs comes in pack of 6, 12, & 24 that are available in multicolor with 30 CM X 30 CM in the area.
6. Myyra:
Founded in 2010, Myyra is a reputed manufacturer and supplier of hand block printed handkerchiefs for ladies. They design their products by using the latest designing machinery and high standard material. The produced handkerchiefs are in high demand for their characteristics such as neat stitching, lightweight, attractive color, easy to wash, tear-proof, perfect finish, and fade resistance. To ensure the finest quality, their offered products are tried out by the quality experts in opposition to different quality guidelines. These hankies are also available in different sizes, colors, and designs as per the requirement of their valued clientele.
7. Caruso Italy:
Caruso Italy Store offers amazing quality hankies that are made with 100% pure cotton which are anti-shrinking, tear-resistant, and carry a noticeable shine. The handkerchiefs are permeable and can be used to wipe off residue, sweat, grime, and tears easily. They are helpful to keep things under control in the middle of a sweaty and hot day. Also, available in different sizes & mixed designs in a lovely box. As these handkerchiefs are not treated with starch, they come with their usual natural smooth feeling which has proved to be very helpful to people with sensitive skin.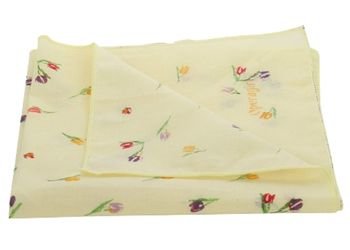 8. Aenon Fashion:
Every girl likes to show off her personality and Aenon Fashion makes this task possible with their attractive multi flowers printed handkerchiefs. They are very soft to touch and are available in multiple unique designs. The handkerchiefs also have smooth bristles on one side and just a fair degree of roughness on the other to guarantee a rare mix of comfort and perfection in your face area. Their sets are weaved using the finest quality fabric due to which they cannot be machine washed or bleached. Also, the dark colors should be cleaned separately in warm water.
9. Tex Homz:
Tex Homz is women's most favorable handkerchief collection. They are extra affordable and come in a pack of 12. These multi-color flora patterns are approximate 30cms x 30cms in area. The superior quality of the cotton fabric is heavier than most of the handkerchiefs which makes these attractive hankies hard-wearing and long-lasting. The hankies are also soft, durable, and have micro absorbent nanoparticles infused in them. This feature makes the fabric substantial for a lady's emergency. The brand recommends washing its products in lukewarm water and drying them in shaded areas.
10. Williwr :
The handkerchief of williwr brand is made with the finest quality cotton.  The material of the fabric is highly durable and suitable for every day rough and tough use. They also have micro absorbent infused in them which makes it light and easy absorbent in case of any emergency. The size of these hankies is 17.2-inch x 16.9 inches which is right about perfect to keep in your pocket. The brand manufactures its product in India and by employing hundreds of by local traders and weavers. Hence this could be an opportunity for you to support the locals.
How big should a Lady's handkerchief be?
Typically, men's handkerchiefs are 30cm X 30cm whereas women's are 25cm X 25cm. But you can find ladies handkerchief in different sizes, it differs from manufacturer to manufacturers.
Cotton or Polyester or Silk Handkerchiefs? Which one to use?
There are so many cloth materials and a variety of handkerchiefs available online that frankly, the ultimate choice comes down to your taste and what you'll use the handkerchief for. In our honest opinion, Cotton and Silk just might be your safest bet if you're the kind of girl who loves comfort and luxury at the same time.
Top Reasons why all ladies should carry their handkerchief with them
1. To clean wet palm

:
Sweating hard because of a high nerve before a meeting or an interview is common as well as normal. But shaking someone's hand with your moist palm can do some severe damage to your first-time impression so carrying a handkerchief is more necessary than you think. Also, if you have cold running nose, its better to attend the meeting with handkerchief.
2. To wipe away rainy water/tears

:
A crying session without a handkerchief is disastrous. No matter how many tissues you use but nothing works like a soft cute little hanky to dab lightly on those tears. It is a perfect accessory for carrying around in your purse to wipe your tears off your skin. And did we mention its uses during the rainy season?
3. To clean mobile Phone / Glasses:
The oily screen of your phone irritates you again? Can't see properly because of the fingerprint on your glasses? Well, we have an ideal solution for all your problems right here- a handkerchief. Yes, clean it all by using your hanky, and do not worry about any evil little scratches that tissues usually leave behind.
4. Offer to a Handsome man

:
We all are very tired of those cliché where a man offers his handkerchief to the love of his life but ladies it's time for us to step up and do something caring and romantic. Forget every social convention and offer that clean handkerchief to your man when he needs it to let him know that you are there for him through everything.
5. To Expose Style:
With so many varieties of designs and styles to choose from it can get a little confusing but it also gives you a chance to think more carefully about your tastes. So, now your handkerchief can be practical as well as fashionable according to your choice.
6. To Help the environment

:
One of the best inspirations is to use handkerchiefs instead of tissues. Handkerchiefs are extremely eco-friendly as they help in saving a whole lot amount of paper, water, and energy which is wasted every year in the production of tissues. They can easily be washed and reutilized again and again.
How to fold a hanky for your pant pocket?
The major reason for folding your clean handkerchief properly is more sanitary than practical. Technically, when you sneeze or blow your nose, you should do it in a thick enough surface area to not make a mess and embarrass yourself in public. 
To do this you must follow a simple technique to fold your hanky in a way through which there are at least two layers of cloth between your hand and nose at all times. This is also necessary because this formula ensures that the handkerchief confines nearly all of the airborne molecules produced from your sneeze in the fabric.
Does handkerchiefs are better than tissue?
We all need to understand that both tissues and handkerchiefs can be potentially unsanitary. It is pretty clear that when we talk about hygiene, the accurate question is "Are your routine habits healthy?" Handkerchiefs are not dirty and non-hygienic and neither are the tissues. 
But with handkerchiefs, you not only save money, but they are also very environmentally friendly whereas tissues can prove to be quite costly and every time you suffer from cold, trees suffer right with you. The dramatic wastage of tissues is very harmful to our nature. So, now that you are aware and ready to decide which one is a better choice for you.
For many people, a handkerchief might seem a little old-fashioned, but trust us, it's a crucial accessory for every pocket, purse, and handbag. Whether it's for the accidental spill, an allergy season, or messy makeup, a handkerchief is most certainly your best and most trustworthy confidante. It may be a little bit of work to browse through all handkerchief brands for ladies but you will eventually find the brand to match your taste in designs and styles. And when you do, the handkerchief will feel a whole lot more special.
Once you gather the courage to switch from single-use costly tissues to sustainable handkerchiefs, you are never going back!